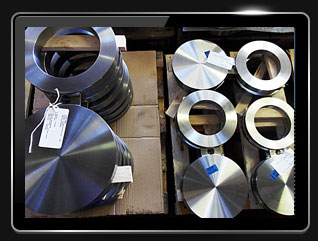 SPACTAKLE BLIND FLANGE
Size : 1/ 2 " ~ 36 "
Material : Carbon Steel ASTM A-516 Gr.70 / A-105
Standard : ASME B16.48
Place of Origin : Indonesia / Japan
Model Number : SPECTACLE BLIND
Standard or Nonstandard : Standard Coating: BLACK PAINTING or Customer Request
ASME B16.48 covers pressure-temperature ratings, materials, dimensions, dimensional tolerances, marking, and testing for operating line blanks in sizes NPS 1/2 – NPS 24 for installation between ASME B16.5 flanges in the 150, 300, 600, 900, 1500, and 2500 Pressure Classes.
Spectacle Blinds, Spades and Ring Spacers should be made from a plate or forging specification, approved for use by ASME B31.3, of essentially the same chemical composition as the mating flanges and piping involved.
Dimensions  Spectacle Blinds – ASME B16.48
Anda mencari Flange murah dan berkualitas berbagai merek, hubungi kami sekarang juga. Untuk kota-kota di Jakarta , Depok , Tangerang, Cikarang , Bekasi, Bandung, Bogor, Surabaya, Semarang, Yogyakarta, Medan, Kalimantan, Pontianak, Balikpapan, Riau, Pekan Baru, Banda Aceh, Jambi, Palembang, Makassar, Manado, Irian Jaya, dan Papua  Kami juga melayani Anda!